12G-SDI 16×4 Clean Master Switcher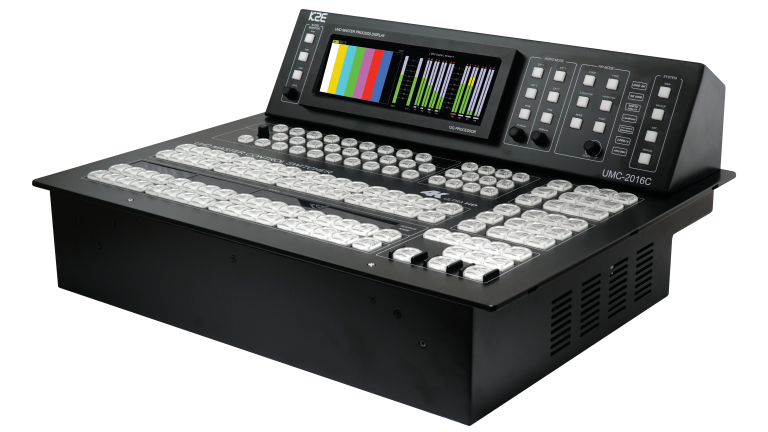 12G-SDI Dual Channel Monitoring
Loudness Setting
PGM PVW Audio Control
Loudness Monitoring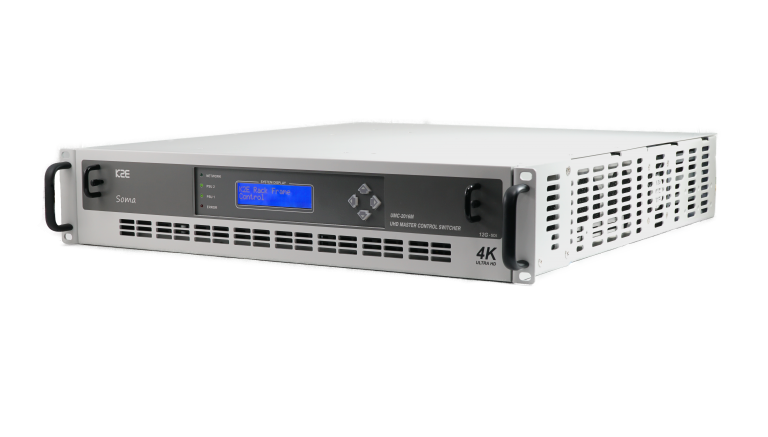 Dual Power Supply
Loudness Control
HDR(HLG10, PQ10, SDR) control
PGM PVW Video Audio Analyzer

K2E Master Switcher have 2 parts of Main (UMC-2016M) and Controller (UMC-2016C / HEC-1604). UMC-2016 is a 4K Clean Switcher that switches PGM and PVW outputs. Video Process displays the Signal Information, Waveform, CIE Chromaticity Diagram, and Audio Level Meter of the input signal using HDR.
UMC-2016M (UHD Master Switcher) is designed for Live broadcaster. Builted as modular system it can be fit into Frame individually and has 16ch 12G-SDI inputs, 9ch 12G-SDI outputs, Program 2ch, Preview 2ch, Clean 2ch, Line 2ch, Aux 1ch. 
16ch Frame synchronizer and reference error free (REF) which means Keep the output SDI signal stable from
the instant input reference loses.
Audio Level can be controlled by PVW & PGM in real time ( STEREO, MONO selct / AUDIO LEVEL / PHASE / Volume Control )   
85m at 11.88Gb/s, 200m at 2.97Gb/s, 250m at 1.485Gb/s
(Typical maximum equalized length of 5C Cable)

12G, 3G, HD-SDI, ST-2082-10, SMPTE242M, SMPTE425M (Level-A, Level-B)

UMC-2016C : PGM 2ch, PVW 2ch, Claen 2ch, AUX 1ch, AES/EBU 2CH, Line 2ch, DSK 3ch (Optional 6ch)
HEC-1604 : PGM 2ch, PVW 2ch, Clean 2ch, AUX 1ch, DSK 3ch

NUMBER OF OUTPUT SAMPLING RATE

32kHz to 96kHz Asychronous, 48kHz Synchronous ( SRC = Off )

AES-1992 for balanced synchronous or asynchronous PCM/AES SMPTE 276M for single ended synchronous or asynchronous PCM/AES
SMPTE274M, SMPTE296M, 600mVp-p nominal, 75ohm terminated through loop

PAL Black Burst ITU624-4/SMPTE318, Composite NTSC SMPTE 170M 1Vp-p nominal, 75 ohm terminated through loop
Number of SDI Input / OUTPUT

12G-SDI : Monitoring input 1ch & Loop output 1ch
3G-SDI : Loudness 1ch, PGM 1ch, PVW 1ch, AUX 1ch

12G, 3G,-SDI SMPTE ST-2082-10, SMPTE 424M ( Level-A, Level-B)
85m at 11.88Gb/s, 200m at 2.97Gb/s, 250m at 1.485Gb/s
(Typical maximum equalized length of 5C Cable)

RS-422 3ch, 100/10 Ethernet 1ch
Data Format : 9600-115200 baud rate
Connector : RJ-45
8 Different Monitoring (Video: PGM, PVW) (Audio: Embedeed Audio)

PGM 16ch, PVW 16ch, DSK 6ch, Logo 3ch, Loudness control pack
Audio Gain Control, Playout automation, Main/Backup remote
RS-422 1ch, 100/10 Ethernet 1ch & Loop out
Data Format : 9600-115200 baud rate
Connector : RJ-45

GPIO editable 16ch, Logo 3ch, DSK 3ch control pin

5 Different monitoring mode
PGM 16ch, PVW 16ch, DSK 3ch, Logo 3ch, Audio Gain Control, Playout automation, Main/Backup remote